Blog
Alta Vista by Art Carter
---
May 25, 2017




SCA Articles
---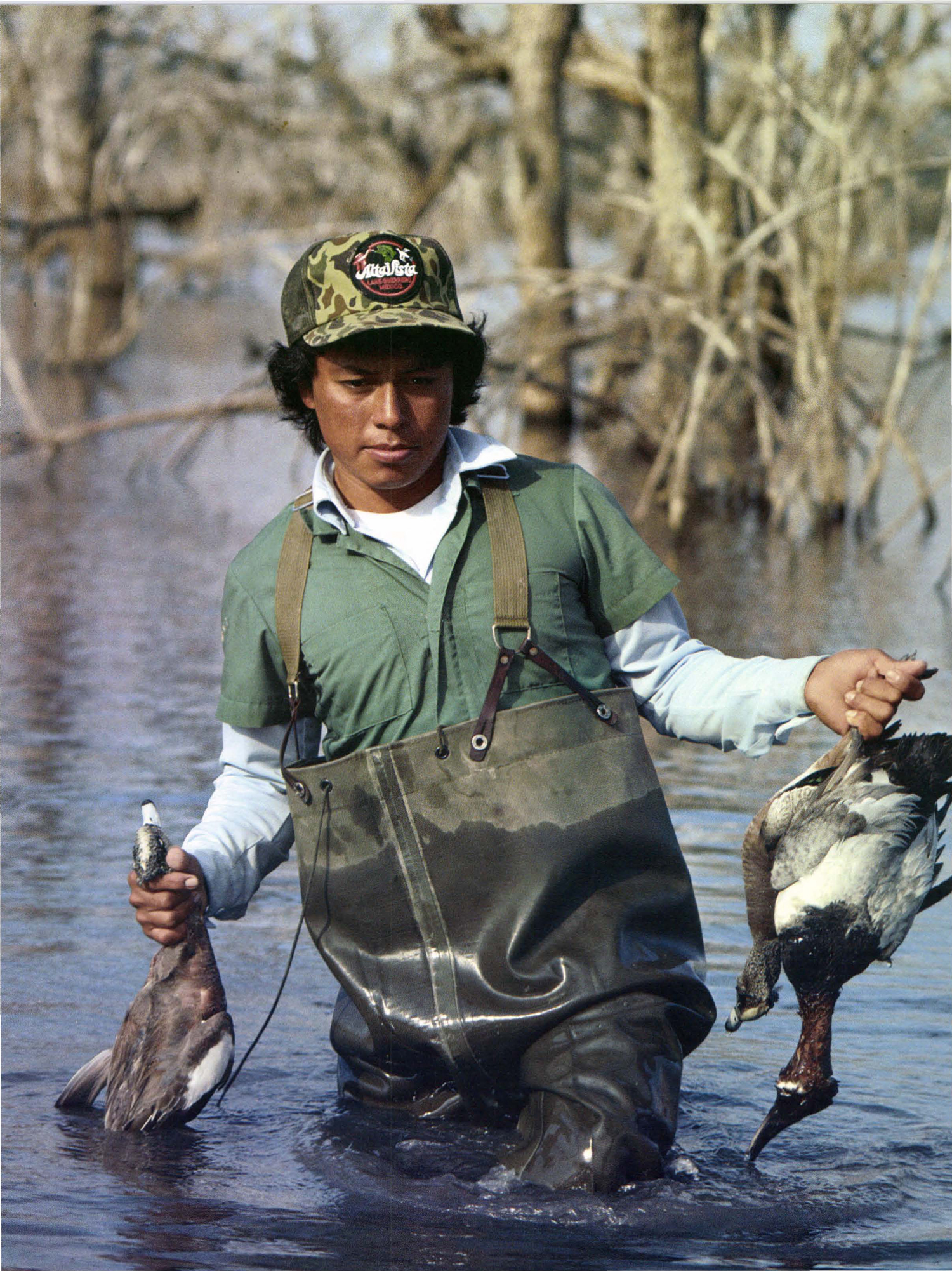 ---
Alta Vista
By Art Carter
Mesquite and cypress limbs the size of a fat man's waist shizzed past our heads at 25 miles per hour. Duncan Grant my duck hunting partner sat in the front seat directly ahead of me. I could tell from his white knuckles he was having a real good time.
The 50-horse Mercury pushed us full tilt down the old river channel that snaked its way through the flooded forest, our bout continually scattering a sea of coots. Some of them ran across the calm water in their comic splashing gait, others just dove under at the very last second.
After 20 minutes of racing through the drowned trees our young guide, Hugo Ortega, cut the engine and let the boat glide into a channel which widened into a shallow flat. John Culler's guide, Ruben Lopez, nosed their boat along side. John had his cigar clenched tightly in his teeth, and the brim of his hat had taken on a permanent upward curl, both the result of the wind ride.
"Can a Mexican drive a boat or what?, " John asked with a grin. It was an obvious understatement.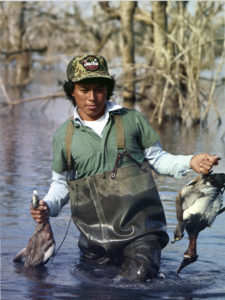 Hugo and Ruben put out a dozen decoys in a small open area while John, Duncan and I waded out in the flooded mesquite jungle about 60 yards apart. The guides left to start the waterfowl moving. We had gotten a late start for our first hunt and the sun was already sinking through the trees.
Soon the ducks began to come. Singles, pairs and small groups buzzed our decoys for a closer look. Duncan knocked down a couple of teal and John was on target with several teal and a pair of pintails, but 1 couldn't cut a feather. The pump gun 1 had borrowed wasn't pointing where I was looking. The low brass Mexican shotgun shells with 7 1/2 shot we had been issued also had me worried. You have to be suspicious of hunting ammunition that comes in a pink box the color of a Mary Kay cosmetics ladies' car. Suddenly a single teal flashed over Duncan's head and streaked toward me, its wings making the noise of ripping cloth. I instinctively threw my gun to my shoulder and fired and the bird folded. When I picked up the rusty-red bird, it dawned on me that it was the first cinnamon teal I had ever taken. I felt then that this duck hunting trip in Mexico was going to be memorable. SpartingClassics editor John Culler, art director Duncan Grant and I had traveled 170 miles south of the border for a late season hunt at the suggestion of Dial Dunkin, a south Texan who operates Alta Vista, a hunting and fishing resort on Lake Guerrero.
"Ya'll come to my place and you'll see more ducks than you've ever seen before; Dial had promised at an outdoor trade show a few weeks before.
On the bumpy roller coaster plane ride from Harlingen, Texas to the camp's air strip we had been introduced to the vast, harsh environment that makes up the Mexican brush country. Lake Guerrero shimmered like a blue jewel nestled in a thousand square miles of rough land where everything looks like it will cut, prick, scrape or in some other way abrade your hide. The quiet backwaters of Guerrero must also be a delightful respite to ducks after flying hundreds of dry miles across south Texas and northeastern Mexico. At least that appears to be the case as we saw literally hundreds of ducks in the air the first afternoon. Although we hunted only about an hour and a half, we killed 13 ducks. We were well satisfied on the way back as Our boats knifed through the darkness toward the distant lights of the hacienda.
Back at Alta Vista we cleaned up and headed for the dining room just a few yards down the hall from our bedroom in the lodge. Any fears we may have had about Mexican food disappeared at the sight of a pile of inch-thick pork chops complete with vegetables, salad and desert. The meal was grand, especially since we hadn't eaten since early that morning; even if John did us by eating an obscenely large number of pork chops. After dinner we went upstairs to the lodge's Safari Bar. Amidst mounted trophies from Dial Dunkin's African safaris, antlers from a dozen trophy whitetails and mounts of various fish, snakes and other exotica was a room full of duck hunters and fishermen watching the Super Bowl on a local TV station. Relaxing in the bar was a great way to end the long day.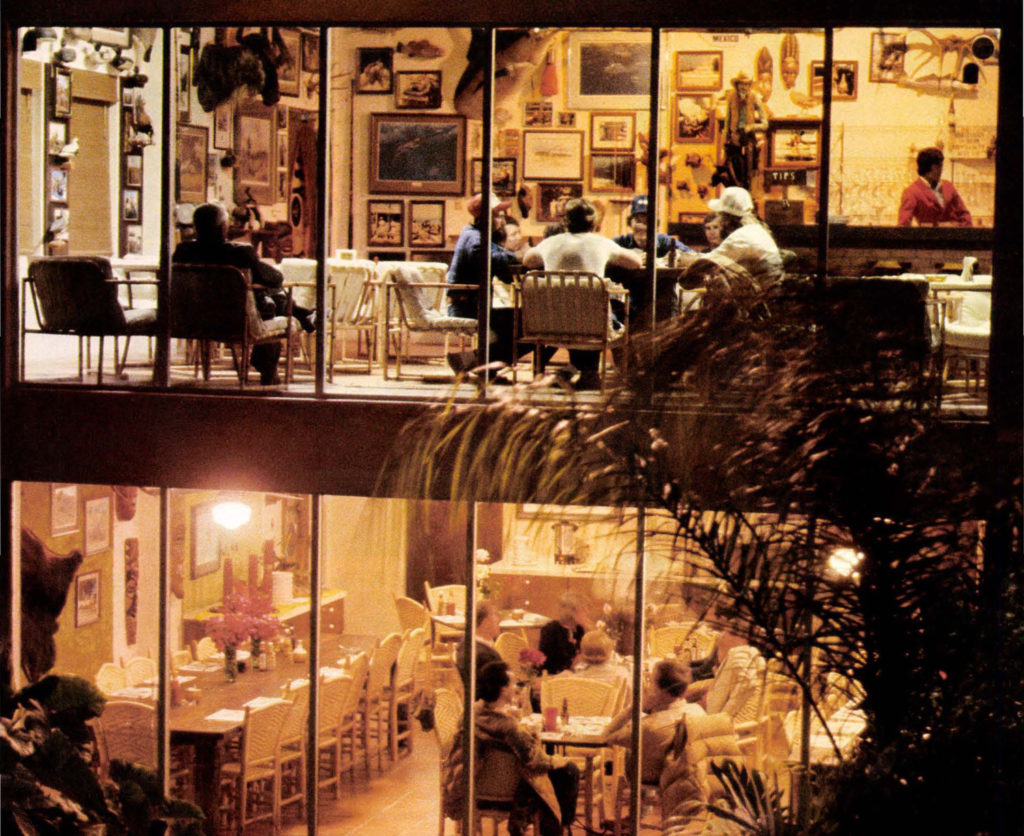 The next morning Tony Deleon, one of Alta Vista's managers, told us that we would be hunting out of a blind that had been "hot" in recent days. We figured he must be right since he had a clip board. Guys with clip boards always know about such things. This time our boat ride through the mesquite had a different twist-the trees zipped past us in the dark. In 30 minutes Hugo and Ruben had us in place: Duncan and I in a well-constructed blind surrounded by decoys and John in knee-deep water in the trees several hundred yards away.
The spot had evidently been very good for someone judging from the empty shells on the bottom of the blind. Unfortunately the ducks must have discovered the area was bad for their health because most came by about 20 yards out of range. The few that did fly close enough we managed to fuiss. By 9:30 we only had five ducks between us. When we met John, we found that he had done much better, almost doubling our bag. Hugo then told us we were leaving for a place that had "muchos patos" -many ducks!
As we pulled into a very wide, shallow flat, Hugo put us out and pointed in the direction the ducks would come. "Muchos Patos," he said again as he shoved off. He was right because as soon as we were in place ducks began swarming out of the marsh. The shooting was furious for a short time with the ducks flashing past us from three or four different directions. Teal, widgeon, gadwalls and shovelers came twisting and dodging through the trees past our hiding places. At times it difficult to pick which duck to shoot. In a few minutes it was over and we had six more for the pot. John had again shot better than us and had collected seven more. With the morning hunt over we headed back to camp for lunch and a siesta.
Besides having an attractive dining room and the Safari Bar, the Spanish-styled stucco lodge has a swimming pool with an adjacent thatched roof patio. The view from the patio is out over the lake, and since Alta Vista is on a high bluff, the view is striking. Down below, the lake is an immense maze of flooded timber and boat trails 23 miles long and 14 miles wide at its widest.
In the afternoon, after having moderate success hunting an old flooded roadbed next to some higher ground, we ended up in some heavy timber not a mile from camp. Duncan was situated about 100 yards from me and John was several hundred yards down another channel in the mesquites. As late afternoon crept into darkness, widgeon, teal, gadwalls and pintails began pouring over our heads. We were standing in waist deep water pass shooting, and the action came as fast as we could shoot and reload. From start to finish the flight only lasted about 30 minutes, but in that time Duncan had ten on the water and I dropped eight. As I was picking up my last bird Duncan yelled for me to come help him retrieve a wounded duck.
"He's in there somewhere, I just saw him go in," he said pointing to a clump of rushes. For the next 10 minutes, with the sky turning from dark blue to black, we probed and peered into the thicket with no success. Evidently, the duck was only wing tipped because we never saw him again.
At dinner we all did quite a job on the fried chicken and after a short excursion to the bar the three of us fell in our beds and slept the pleasant sleep of the outdoor fatigued.
The next morning we changed guides for a trip up the lake to try some lightly hunted areas. Duncan and I had drawn Ramon Hinajosa and John had a younger fellow by the name of Juan Govea. Forty five minutes later we pulled into a cove and at least a hundred ducks poured over our heads. We knew our new guides knew their area well.
As soon as Ramon and Juan were gone with the boats, the birds began to come back. I happened to be the first one they flew past on their way back into the sheltered cove and for the first time during the trip I began to regain my shooting eye. I killed eight in a row including a double on pintails which almost dropped in John's lap across the cove. He began to shout obscenities which made me feel great, and which made the Brahman cattle munching the marsh grass behind us take notice. Duncan and John got their turns in a few minutes as the birds continued to come unhesitatingly back into the cove.
For the rest of the morning we had good shooting in one of the prettiest areas on the lake. Twenty miles distant a range of rugged 10,000 foot mountains loomed over a fertile valley and the lake. On the way back to camp for lunch Ramon took a slight detour to show us the flooded town of Padilla, Lake Guerrero's most famous landmark. Ten years ago five local rivers were backed up to form the lake for an irrigation resource.
An old crumbling stone church stands at the waters edge, stoic in the hot afternoon sun. A crow welcomed our visit with a raucous call from his perch in the gutted bell tower. Half covered by the blue waters of Guerrero, 50 yards from the church, stood an abandoned school house, its stone and mortar walls holding firm against the lake's intrusion. The happy calls of playing children and the voices of teachers instructing their pupils seemed far in the distant past. Fading yellow walls with soft rose colored trim work over graceful window and door archways portray the old school house as a lovely example of traditional Mexican architecture. The water in and around the school has been a refuge for countless generations of largemouth bass; indeed, it is probably the most heavily fished spot on the lake, but I have to believe it is because the place is so unique.
That afternoon Ramon took us to several other good hunting areas and we soon had our limits. As we relaxed at the lodge that night after such a delightful day, we all realized that the peace and quiet of Alta Vista was complete; we had not heard a phone ring in three days-there isn't one.
Early the next morning, as we loaded our gear into Ramon and Juan's boats, Tony told us our trip would be an all day exploration with packed lunches. That sounded great and as we motored into the darkness, the day looked to have the trappings of an adventure.
On the long boat ride we passed Padilla and the still asleep town of Victoria, its lights twinkling in the distance. After stopping briefly at a spot that didn't produce much we wound our way far back into a great tree entangled neck of the lake. Clouds of widgeon and smaller groups of pintails and teal whistled over our heads as we went further into the water covered forest. At last we split up and I found myself alone on a small hill overlooking a narrow deep gut of water filled with half-submerged brush. Duncan was four or five hundred yards away and John was a half a mile from him. When the ducks began to fly I had shots above and below my blind on the hill. It was the best shooting of the week with the widgeon, teal, pintails and gadwalls streaking down the chute.
Lunch was a leisurely repast of ham sandwiches, hotly spiced Mexican com chips and soft drinks on a calm, rocky shore of an island. While John and I took a nap on some grassy spots, Duncan amused himself looking for oddly shaped rocks on the beach. As mid-afternoon slipped into late afternoon we all returned to the hill that I had hunted from in the morning. John positioned himself next to a rock outcropping so that he was comfortably hidden and had only to raise his gun to ambush whatever flew by his blind. Our guides were busy beating the bush to make the waterfowl in the area take wing. With John, Duncan and I strung out along the hill we were very much like hunters waiting for beaters on an European estate to push grouse or pheasants to our "stands".
When the ducks began to fly, they came in numbers we had not seen before. They streaked past our blinds completely unaware of our presence. Long before dark we had our 20 duck limits and watched as the sun was setting in a golden display behind the mountain range to our west. On the bumpy, cool ride back in we all decided that there wasn't any way it could get any better.
A fast moving storm front moved in during the night leaving grey skies and a misty rain to greet us the next morning. Dial Dunkin had been telling us how good the quail hunting was close to Alta Vista so we loaded into a van with three sleepy pointers and headed to a farm 30 miles away. Our guide, Perfecto, pulled onto a bumpy dirt road leading into a large agricultural area backed by a mist shrouded, lushly green mountain. When we saw a covey of bobwhites fly in front the van and land in a plowed field Perfector stopped the vehicle in the road and we piled out. That was the start of the fastest quail shooting any of us had ever experienced. With the cool mist falling around us we flushed the covey and downed a couple of birds. By the time we had retrieved them one of the dogs was pointing the singles along an irrigation ditch. From there on for the next hour we never walked more than 100 yards without one of the dogs going on point. Once in the middle of a plowed com field the dogs pointed three different coveys within 150 yards of each other. There was little cover, at times it was almost like shooting on a pool table! In all we must have found at least 10 coveys in that hour and bagged 23 birds. If our shooting had been any good, we would have done better.
Duncan seemed to have perfected a method to hit quailby bracketing them: one shot behind, one shot in front and one shot on the bird. He also had an interested semi-crouch, sneak-up method of approaching the pointed quary. John kept muttering something under his breath about it taking Duncan an hour and a half to watch fi) Minutes on T.V, but it didn't help. On the way back to the lodge John, an old Georgia "pottige" hunter from way back, kept saying that if he had known the quail hunting was that good he wouldn't have bothered with the ducks.
In the afternoon the weather cleared and Dial and I went duck hunting over a beautiful set of wooden decoys he had carved himself. Dial is an excellent wing shot and it was a lot of fun hunting with a man who is shooting over his own decoys. Duncan and John decided to go fishing to try for some of Guerrero's famous bass. Guerrero is a very famous bass lake, and while the bass here seldom weigh over five pounds, there are a lot of them and the action is steady on a good day.
On our last morning I went duck hunting with a young guide, Chavelo Cruz. We went deep into the tangles of Guerrero. He put me out in a clump of rules, a bulrush that grows more than ten feet high. I was by myself this morning as my two compatriots had decided to sleep in. It was a peaceful and quiet as a light breeze rustled the rules over my head. Night became day and ducks carne streaking out of the trees from all directions. I shot and by the time Chavelo picked me up at 9:30, I was only one bird short of my day's limit. As we were retrieving the birds a single widgeon tried a sneak run and my day was complete.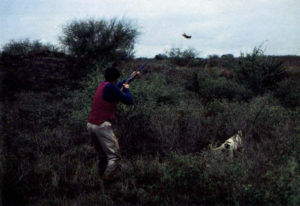 It was a rewarding way to finish the trip. I had harvested more ducks for the freezer in a single morning than I had in some seasons back home. The delicious waterfowl would grace my dinner table many times during the next year, as a hunter is allowed to bring back three days'limit. They would be a wonderful reminder of good days in the fields and marshes with good companions, and of the warm Mexican sun setting over a seemingly harsh environment that is really a fiercely beautiful sportsman's paradise.
IF YOU WANT TO GO
AIta Vista is located in Mexico's state of Tamaulipas 170 miles south of Brownsville, Texas 50 miles west of the Gulf of Mexico. The lodge provides round trip air service from Harlingen, Texas at a cost of $225. Driving from Brownsvilles takes about three and a half hours.
Duck hunting at Alta Vista costs $240 per day, per person, which includes lodging, three meals, maid service, hunt transportation and guide, bird cleaning and packaging and beer or soft drinks while hunting. Shotgun shells may be purchased at the lodge. Hunters are allowed to bring 100 shells into the country. Fishing on Lake Guerrero, costs $165 per day per person. Tackle is not included. Alta VISta features excellent white wing dove hunting. Lake Guerreno valley holds 12 million doves during the peak season. ~ is $240 per day per person. Quail hunting is now available on a limited basis. A hunting license, gun pennit and multiple entry visa are required and C05tS $180; two guns are allowed. It is customary to tip guides: $5 per half-day, per person for fishing , $10 per half-day per person for hunting. The duck limit is 20 per day with no point system: quail ,10 per day, doves, 20 per day. AMexican tourist card is required to enter the country and may be obtained free from any local Mexican government tourist office or consulate. Proof of citizenship must be produced and must accompany the person for re-entry into the United States. The waterfowl season is from November 1 to February 22; doves, August 15 to November:; quail November 12 to February 28. Temperatures ~ the fall and winter seasons are normally cool in the mornings and evenings and warm to hot in the middle of the day. Dove season ranges from hot to mild. Chest waders for duck hunting are a must. Alta VISta bas camping facilities available for $15 per day. Alta VISta also has a number of family rates. For more information contact Alta VISta, P.o. Box 2186, Harlingen, T~ 78551, (512) 423-2234 or (713) 869,5071.